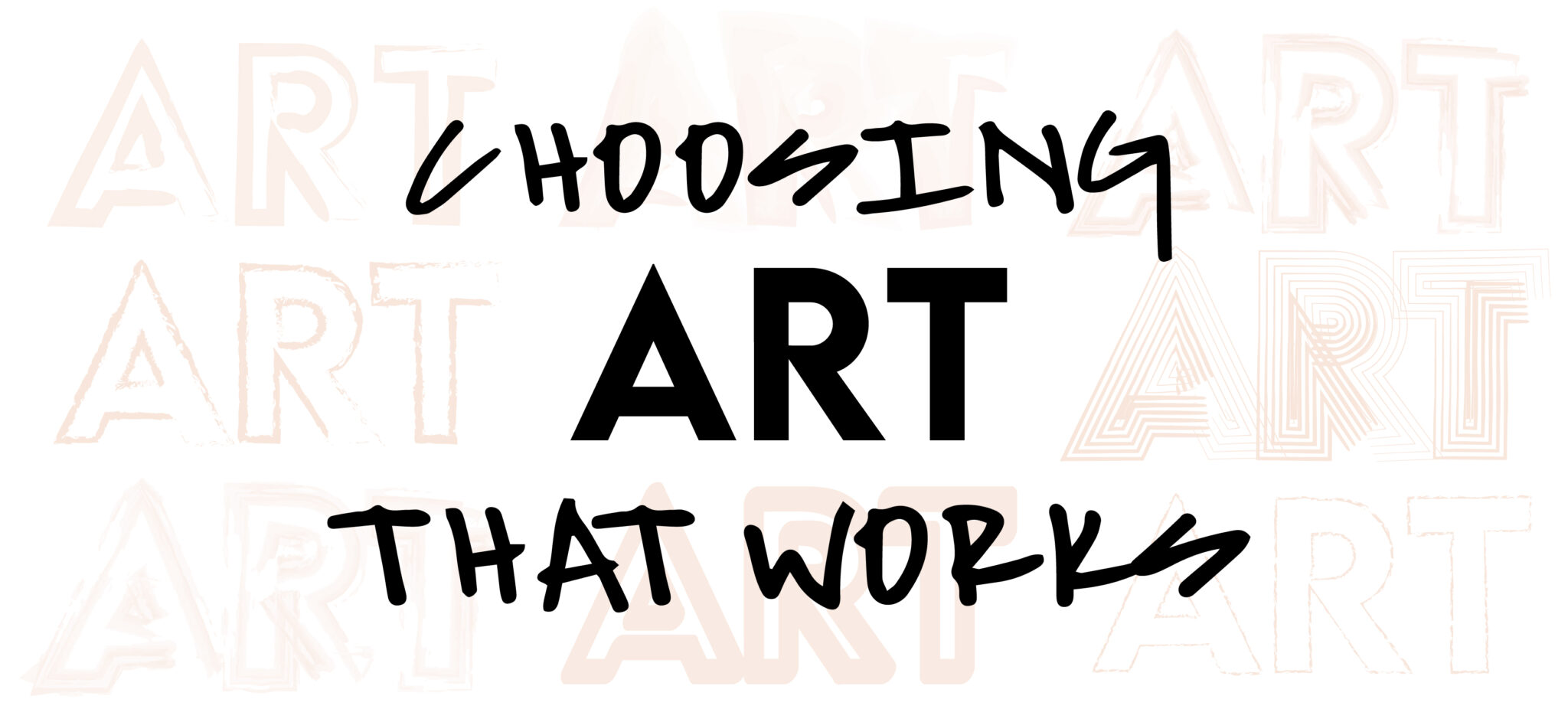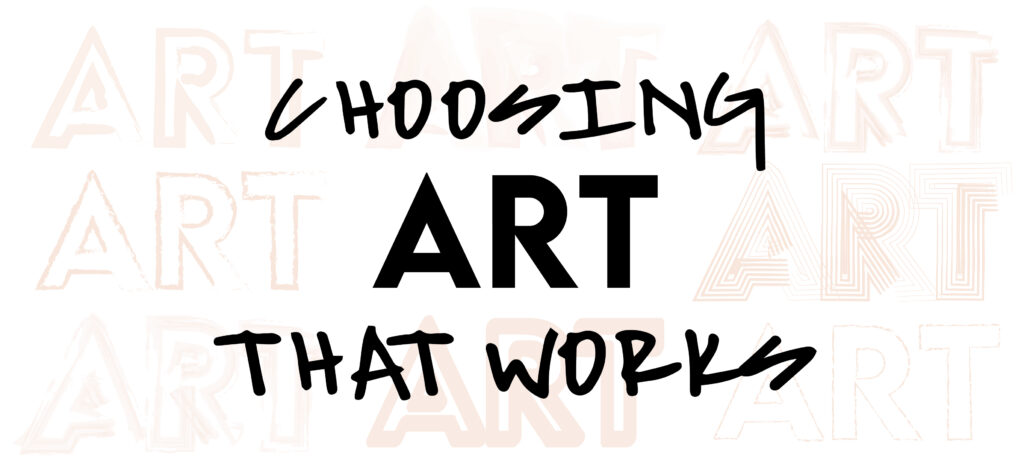 The art we choose for our home or office space affects us every time we see it – so it's SUPER important to get art right. Check out our tips below along with why we chose certain pieces for specific projects AND our favorite places to shop for cool, affordable art. Enjoy!

RESIDENTIAL
Even in a perfectly furnished home, without art on the walls, it will look un-finished. Many people leave this design element until last, or skip it all together as selecting art can be daunting – but it doesn't have to be! Below are our tips for choosing art that will make your house feel like a home, and will also support your well-being.
1. The most important things when selecting artwork is to choose something that sparks joy. Don't worry too much about what is 'in', and don't choose something just to fill space. Pick something that resonates with you, and makes you feel happy, at peace, or inspired when you look at it.
2. As holistic interior designers, we always recommend choosing art with a natural element. Landscapes are a great way to do this. They tend to be soothing, and from an aesthetic standpoint, they're a great way to bring color into your space, as you can see below in the gallery wall that we curated for a residential project in Westchester, NY.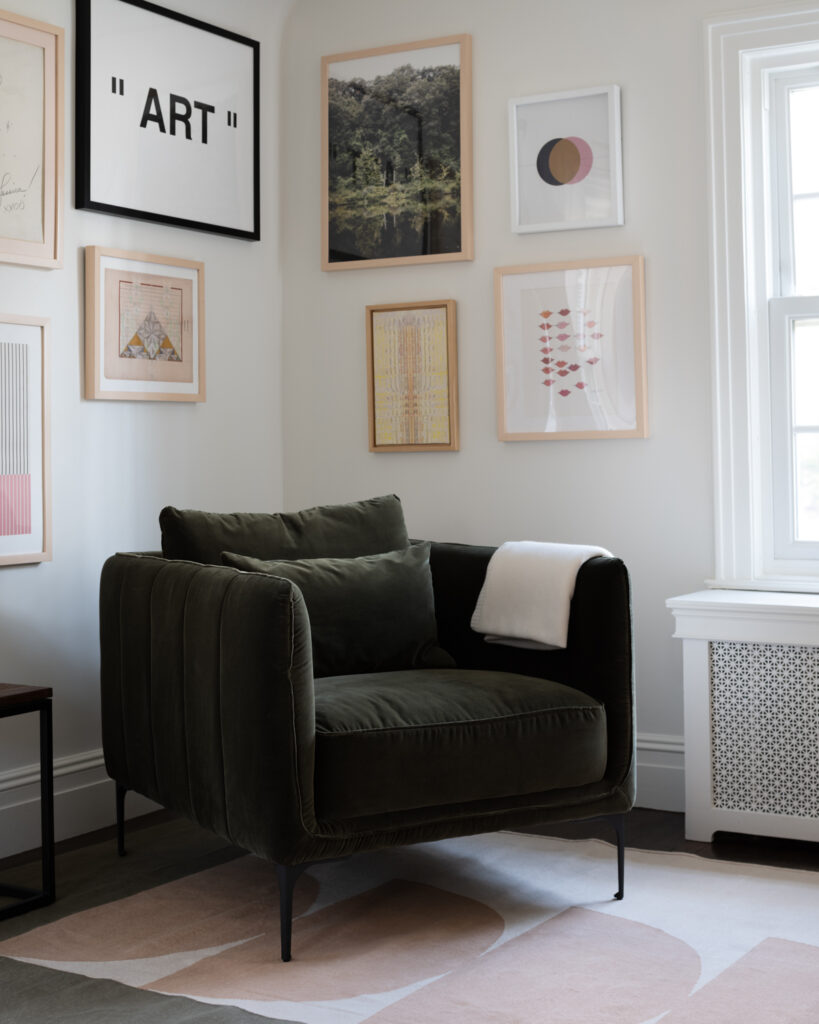 3. If you're looking for art for a space in which you want to feel alert or energized (like a home office), choose pieces with bright colors and sharper angles.
4. Select art that incorporates soft colors and round, abstract shapes in spaces where you'd like to feel calm (like a bedroom or common area). These elements tend to soothe us, and lend themselves to a sanctuary-like feeling. This was our goal for the Upper West Side apartment you see above featuring abstract line art.
5. Just as mantras are powerful in meditation, a mantra in the art that you choose can be powerful as well. Choose a piece of art with a saying or phrase that resonates with you or is a daily reminder of your goals. Positioning mantra art in a foyer, or on a bedroom wall that you see as soon as you wake up is especially impactful.
6. Seek out an artist that you love. Making an aspirational choice like this will not only make you appreciate your art more, but you'll feel good about supporting someone's rising career.
COMMERICAL
Choosing the right art is just as important in a commercial space as it is in a home. Choosing the right art gives a clue to employees and clients as to who your brand is, and also adds life to a space that might otherwise feel dull. Here are our tips for choosing the right art for your office or retail space.
1. Art for a commercial space (in particular an office), shouldn't feel too personal. You want to create a space in which employees and clients will feel comfortable and inspired.
2. For the above reason, choosing abstract art, or photos of nature, are excellent for an office space. They also tend to be calming and create a connection to nature.
3. Custom art is a perfect way to bring your brand to life in an office setting. This way, you're able to incorporate brand images, colors, or even tag lines and mantras. Pictured above are custom posters that we created for Postlight Studio's New York Office.
4. In an office space, you have a little more leeway to go big and bold. Creating or commissioning a mural or custom wallpaper is a fun and impactful way to add art. This is also a great way to add life in spaces with very large walls or tall ceilings that might be more challenging to fill with traditional framed art. We chose graphic patterns in Iponweb's brand colors, as shown below, for their NY office.
SOME OF OUR FAVORITE PLACES TO BUY ART
Now that you're equipped to pick the perfect art for your space, let's get shopping! Check out our suggestions below for where to buy art for your home or commercial space.
1. Minted: This site makes it easy to find fine art as well as prints that feel much more expensive than they actually are. Bonus – you can have your piece framed and matted for one stop shopping.
2. Society 6: This site is a great way to support up and coming, lesser know artists and graphic designers. They have an extremely wide variety of prints at very affordable prices (which is perfect for commitment phobes!)
3. Daniela Manini: For anyone with wanderlust, these prints are for you. Fun colors and graphics depict a wide variety of travel motifs from simple and abstract to posters of some of your favorite destinations.
4. Chisholm Larsson Gallery: If vintage is your thing, you can't pass up this New York staple for posters.
5. Artstar: For unique, highly-curated photographs and prints, Artstar is the place. With pieces ranging from edgy to refined, and museum grade framing, this site is hard to beat.
Gala Magriñá Design works with clients that understand the importance of creating a beautiful space and want to work with a no-nonsense design team that is able to clearly chart the best way forward. What separates or approach from other designers is our extensive knowledge of how people live and how best to create a customized space that nurtures that. We aim to merge cool and beautiful interiors with a holistic, mindful and intuitive approach to design that results in powerful, healthy spaces that elevate and transform people's lives. For more information please visit www.galamagrinadesign.com.